Father's Day Dessert Recipes
Be a little more creative and enthusiastic this Fathers Day! Spend some time in kitchen and delight Papa with these awesome Fathers Day Dessert Recipes. Take Mama's help if you need but cook with love and garnish with smile. Isn't this a wonderful idea to make your Daddy's special day a little more special this year.
List of Father's Day Dessert Recipes

Angoor Rabri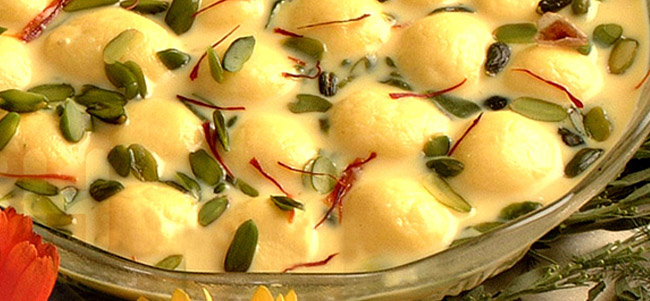 Ingredients
5 cups (1 kg): Full cream milk
1/2 cup: Sugar
1 cup: Grapes-washed and stalks removed
12-15 no: Almonds-blanched and shredded
4-5 no: Green cardamoms
2 tbsp: Pistachios-blanched and shredded
Method
Bring the milk to a boil in a wide, heavy based pan or a kadahi and add the sugar and elaichi and simmer over low heat.
Cook thus till 1/3 of the volume of milk is left. The time taken will depend on the richness of the milk and your vessel.
When done, the colour changes to a beigeish cream.
Shut off the heat. When cool, mix in the grapes and transfer on to a serving dish
Garnish with the nuts, chill and serve.
Kaju Mysore Paak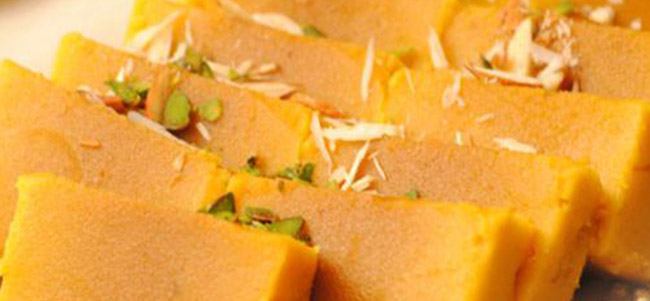 Ingredients
1 1/2 cup: Sugar
1 cup: Besan
1/2 cup: Kaju-chopped fine
2 cup: Ghee
2 cup: Water
Method
Sift the besan and keep ready.
Dissolve sugar in the water over low heat and once it dissolves, increase the heat, bring to a boil and cook till it reaches a one-thread consistency.
Add 1 tablespoon besan and stir to mix well. Continue till all the besan is added, a tablespoon at a time. Mix in the kaju.
Add the ghee, one tablespoon a time till all of it is used. The color and texture will change by now. It will get more brown and crumbly.
Set in a thali, patting to level. Do not remove ghee that may float on top, pat it back. Cool, cut and serve.
Plum Cake (Fruit Cake)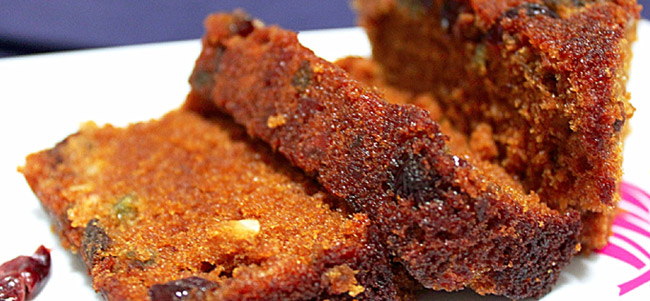 Ingredients
Oven temp:
150 C-300 F
1 cup: Butter
6 no: Eggs
2 cup: Refined flour
1 cup: Sugar
125 gm: Almonds-chopped
2 tsp: Vanilla essence
2 ½ cup: Mixed fruits-chopped (sultanas, raisins, candied peels and cherries)
An 8" round cake tin, lined with a double layer of grease-proof or brown paper at the bottom and on the sides.
Method
Mix the chopped fruit and almonds with 2 tbsp of the maida and keep aside.
Cream butter, sugar, eggs and vanilla together.
Fold in the flour and then the fruit mixture.
Transfer mixture into the prepared tin and bake in a pre-heated oven for 50-60 minutes.
Pumpkin Halwa (Kaddu ka Halwa)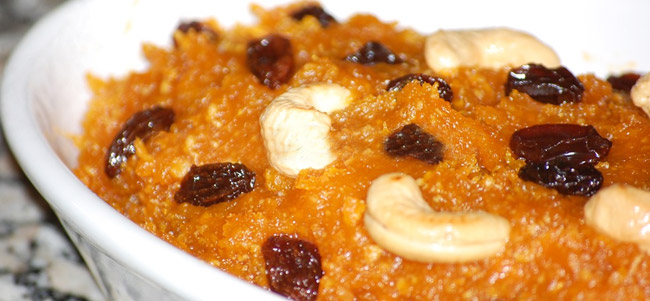 Ingredients
1 kg: Peeled pumpkin-cut into 1 "dices
1 1/2": Cinnamon stick
150 ml: Water
150 gm: Grain sugar or to taste
4 tbsp: Butter / oil / pure ghee
50 gm: Raisins
2 tbsp: Grated-roasted coconut
2 tbsp: Flaked-roasted almonds
Method
Place the pumpkin, water and, cinnamon in a saucepan. Cover and cook until tender. Drain and mash the pumpkin.
In a large pan, heat 4 tbsp of oil until hot. Add the pumpkin, stirring, continuously. Allow the puree to reduce and thicken and darken, for about 10 minutes. Stir in enough sugar to sweeten.
Continue cooking until the halwa reduces into, a deep amber and glossy mixture.
Spoon into a serving dish and serve hot.
Decorated with raisins, coconut and almonds.