Personalized Father's Day Gifts
Personalized Father's Day Gifts are a fad amongst people these days. Incorporating the much needed personal touch, personalized gifts instantly catches the fancy of all. To simple things that are readily available in the market personalization impart a dash of love and affection making the gift priceless in terms of its sentimental worth and the fond memories it generates.
Here are some ideas of gifting a Personalized Gift to your Dad:
Printed T-Shirts:
Get a loving quote like 'Word's Greatest Dad' or some other special lines printed on a T-Shirt. You may also adorn the T-Shirt with your family or Dad's picture on it. The idea can be implemented on caps too.
Mugs with Quotes:
This option is readily available in the market these days. You can get your father's picture or a sentimental quote printed on the mug making it personalized and extremely special for him.
Pen with Dad's Name
You can have your Dad's name inscribed on a classy pen and make it personal and precious for him. You may also use this idea on business card case or pencil holder.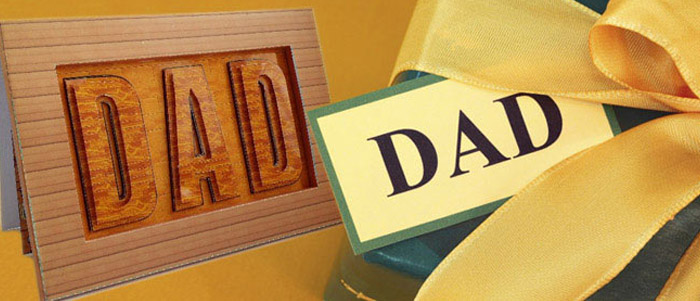 Best Dad Trophy
Award your dad with the 'Best Father' Trophy. Get Papa's name and title inscribed on the trophy or plaque and gift him on a Father's Day do you organize in his honor.
Name Embossed Leather Cases
Have you Papa's name embossed in gold on a fine leather cheque book case or a wallet and add a panache to your Father's Day Gift. You may also like to implement the idea on travel bag or on his shaving kit.