Father's Day Gift Ideas
Father's Day is a perfect occasion to express your deepest feelings for dearest Papa and pamper him with loads of Father's Day Gifts. Ties and wallets are nice but don't you think that dad can feel bored getting the same formal and cliched gifts every time.
So try and be a little more innovative and thoughtful this year and present a gift that leaves an everlasting impression and creates sweet memories for a lifetime. Sounds nice and bright?? Ya... But the most daunting task is to decide on the right gift for dad. Here are a few Gift Ideas for fathers day with different tastes and interests. These might help you to widen your approach for selecting Father's Day Gifts. These father's day gift ideas can suitably be implemented for grand dads, uncles or men who are like your father. The most important thing that should complement any Father's Day Gifts that you select include a warm hug and a big THANK YOU.
For Trendy Dads
If your dad is hep and love to carry a style statement a wonderful idea would be to gift him a pair of cool sunglasses. He might be possessing some already but he would welcome another one with a warm smile. Perfumes and Deodorants can also be given thought.
For Sporty Dads
Sporty dads are going to love a Father's Day gift that boosts their passion for fun and sports. So you can gift him something that gels with his area of interest. Golf, cricket or tennis set would be a nice sporty idea. If he loves indoor games you may go in for premium chess or cards set or anything else like Dartboards or scrabble based on his choice.
For Bibliophile Dads
If your dad loves to spend time in books there can be no better idea than to gift him a nice hard bound book. While implementing this idea be a little thoughtful and keep your dad's choice in mind. On the occasion of Father's Day you may also select books which reflect on the beautiful relationship shared between a father and a child.
For Techno Savy Dads
There are a lot of options in the market for dads who love to adopt latest and trendiest in technology. If you have a good budget you buy a sleek new mobile set or i Pod. On the higher end you may go in for camera, camcorders, lap tops and DVDs. Other ideas in this category include electronic shavers, massager or exercise equipment.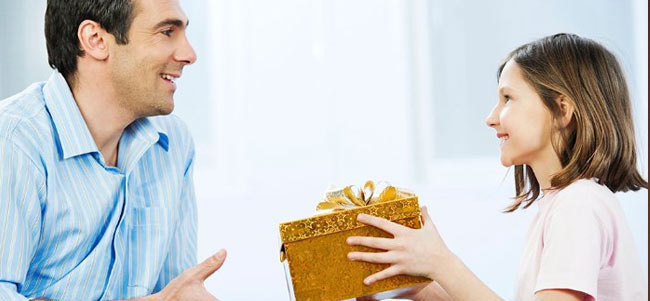 For Dads on the Mechanical Side
If your dear Papa loves to play with the mechanical object a bright idea would be to gift him a tool set complete with screwdrivers, wrenches and hammers. And how about the Swiss Army Pocket Organizer??
Clothes and Accessories
These are traditional yet always appreciated. You may like to buy a formal shirt, a casual T-Shirt or a pair of trousers. Accessories that may be gifted on Father's Day include belts, wallets, portfolio bags, cuff-links and of course ties!
Movie or Theatre Tickets
Book tickets for dad's favourite movie with just mom or the whole family included. Alternatively you may get him a DVD of his favorite movies or albums. A picnic or a trip to amusement park can also work as a wonderful Father's Day Gift Idea.