Homemade Gift Ideas
Father's Day is one perfect occasion to show dad how much you love him and express your heartfelt gratitude for him. And what better way can you show your affection than with something made lovingly by you!! Homemade Gifts are most appreciated by Dads on their special occasion.
This is for the simple reason that gifts made with love by caring kids touch the core of a father's heart. Gifts made by hand, howsoever small or imperfect, are much more precious than the fancy gadgets that you might purchase from the market. Those may be valuable in terms of money but the one made by hand is priceless. So know your worth and plan out how to impress Dad this Father's Day.
Making Homemade Father's Day gift will also help you to unleash your hidden talent and bring it out in open. Think about your skill? What are you good at? Here are a few ideas you can give a try this Father's Day. You can use your imagination and come up with your own fantastic million dollar ideas.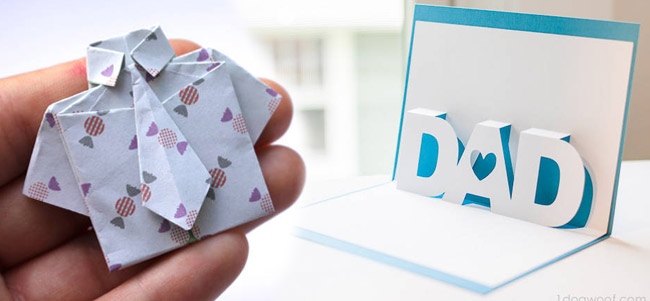 If you can write creatively, write a song or a poem reflecting your feelings for dad. Get it framed and gift it on Father's Day.
If you love music compose some special musical piece or a song for Father's Day. Present your performance in a Father's Day get together and make an everlasting impression on Dad.
Those good at painting may like to sketch a portrait of Papa or prepare a painting of his favorite haunt.
You can also go in for preparing Dad's favorite meal on Father's Day to make him happy. If you need ideas Click Here for Father's Day Recipes.
Children can also try craft activities for Father's Day. Use imagination, love and ideas in our Father's Day Crafts page to make wonderful homemade crafts.