Father's Day Dinner Recipes
Instead of rushing to restaurants for formal dinners, treat your father with a delectable homemade Fathers Day Dinner in the comfortable ambiance of the home.
Take your Mom's and siblings help and try this mouthwatering special Fathers Day Dinner Recipes and make this Fathers Day Dinner a memorable one! Your father will be grateful for making the day so special for him. He will hug you with love and give you loads of blessings for your life.
List of Fathers Day Dinner Recipes

Paneer in White Gravy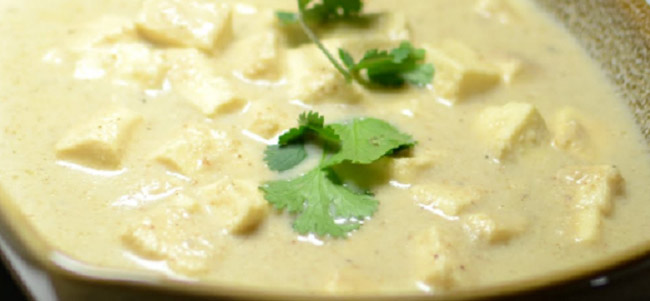 Ingredients
1 kg: Paneer - cubed
250 gm: Curd
150 gm: Khoya
150 gm: Cream
300 gm: White Onions
20 gm: Ginger
20 gm: Garlic
2 drops: Kewra jal
12 no: Green cardamom
5 gm: White Pepper Powder
20 gm: Desiccated Coconut
50 gm: Cashew Nuts
250 gm: Ghee
Salt to taste
Method
Extract the juice of ginger and garlic and keep aside. Grind onions separately, and the cashew nuts and coconut to a fine paste.
In a heavy bottomed pan place the ground paste, add salt, green cardamoms, ginger garlic juice and bring to boil, then simmer.
Cook until dry. Then add ghee and the beaten curd, and cook till fat separates. Add the nut paste and fry for 2 to 3 minutes, taking care that the masala does not brown.
Then add white pepper and 1 1/2 cups of water, or enough to make a thick gravy.
Add paneer. Simmer for a while. Remove from fire add kewra jal, and mashed khoya. Blend well. Finally add the cream.
Serve hot garnished with silver leaf.
Roomali roti is a good accompaniment for this dish.
Vegetable Pulao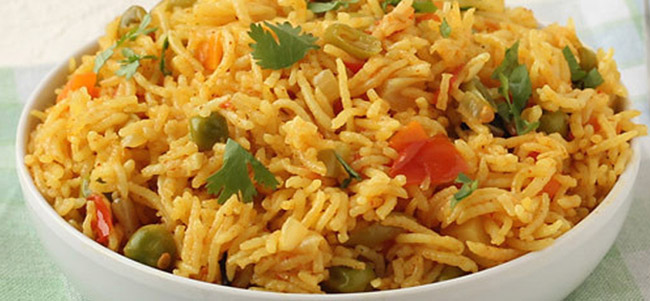 Ingredients
500 gm: Basmati rice
50 gm: Chopped and cooked Paneer
100 gm: Carrot
100 gm: Peas
100 gm: Beans
2 no: Choti Elaichi
2 no: Cardamom
1" stick: Cinnamon
3 no: Bay leaves
2 tsp: Cumin seeds
½ tsp: Chilli powder
¼ tsp: Turmeric
100 gm: Ghee
Salt to taste
Method
Heat the ghee and lightly sauté all vegetables. Add paneer and sauté.
In separate pans, sauté all spices.
Add drained rice and fry for 3 minutes.
Add sautéed vegetables and 500 ml of water.
Cover and cook until done. garnish with coriander leaves.
Chicken Curry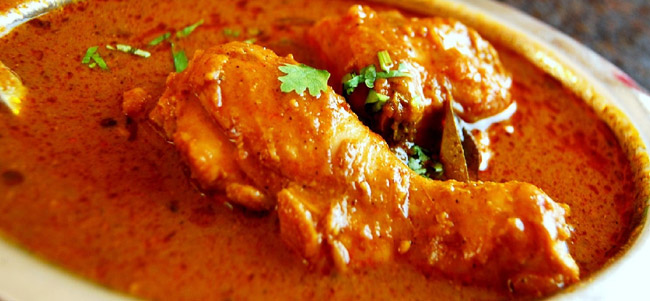 Ingredients
1 no: Chicken - skinned and jointed
3 no: Large Tomatoes - skinned, de-seeded and chopped
2 no: Ground Onions
1 tsp: Ginger powder
1 ½ tbsp: Roasted, ground Fennel Seeds
½ tsp: Kashmiri Mirch
2 no: Cloves
2 no: Large Cardamoms
2 tbsp: Oil/ butter
350 ml: Water/ Stock
Method
Fry the chicken in hot oil for 5 minutes to seal. Remove from pan.
In the same oil, sauté onions until golden brown in color. Add the chilli powder, fennel seeds and ginger powder. Stir well and season with salt.
Add tomatoes to the pan. Stir in cloves and cardamoms. Cook for 5 minutes before adding water/ stock. Bring to a boil.
Return chicken to the pan and simmer over a gentle flame until tender.
Strain the juices and serve with the chicken.
Cocktail Shammi Kababs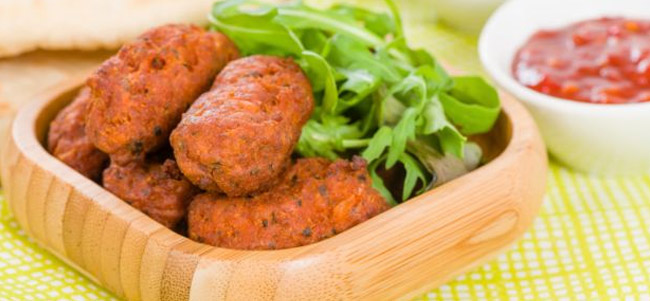 Ingredients
250 gm: Ground Meat
50 gm: Channa Dal
1 no: Small Egg
2 no: Large Onions
1 rounded tbsp: Garlic Paste
1/2 tsp: Chilli powder
1 tbsp: Shredded Ginger
1/2 tsp: Garam Masala
1/4 tsp: Shahi Zeera (Royal Cumin)
2 no: Green Chillies - finely chopped
1 tbsp: Coriander - finely chopped
Juice of half a lemon
Oil for frying
2 tbsp: Oil
150 ml: Water
For Chutney
50 ml: Lemon juice
20 no: Red Chillies
2" piece: Peeled Ginger
1 tbsp: Peeled Garlic Cloves
3 tbsp: Sugar
Salt to taste
Method
Cook meat, onions, garlic, chilli powder, ginger and dal together with oil, salt and water until the liquid evaporates. Cool and grind.
Bind with the egg and add the remaining ingredients. Knead well. Shape into small, flat roundels and deep fry.
Serve with chutney.
For the Chutney
Grind all ingredients to a paste. Season and serve at room temperature